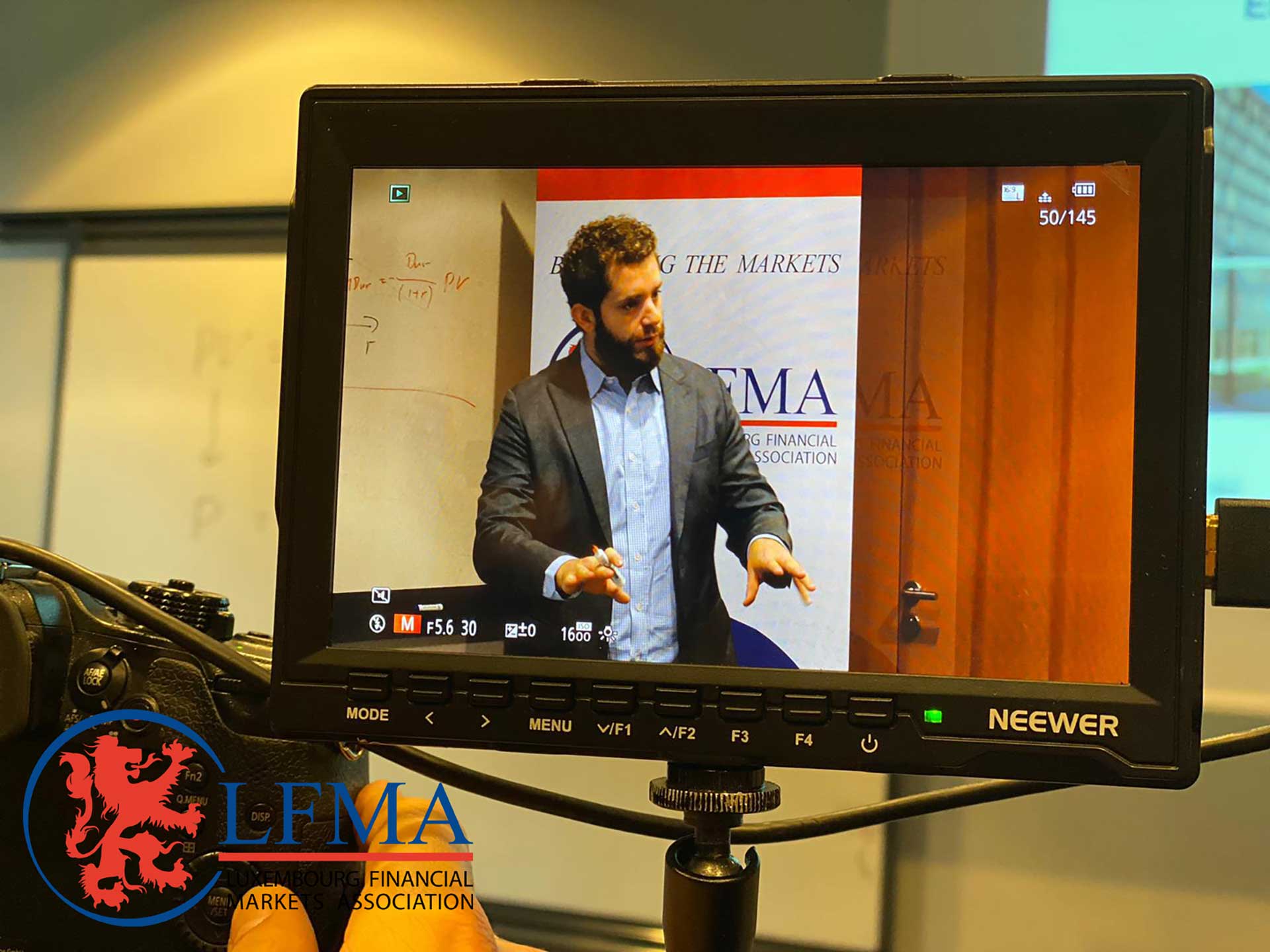 Dear members of LFMA,
With regards to our new setup and continuous approach to improve our education and industry standards for all of us and any newcomers, the Board is proud to announce the collaboration of LFMA with AEFMA Deutschland e.V. (AEFMA) and the Frankfurt School of Finance & Management.
The next level of our Education program has been just launched!
"Certified Expert in Treasury and Markets"
Global Financial Markets have changed significantly during the last decade in terms of products, regulation and management. In order to respond to those changes the Frankfurt School has developed a new education program for financial markets and treasury in collaboration with AEFMA.
LFMA supports this education initiative. LFMA members will receive a special discount of 20% on the course fees. Participants can also refer for more details on the two attachments and on the following link:
This program usually starts with an e-learning part to build a fundamental knowledge in financial markets and their products which will be assessed by an examination and continues with one week intensive course on-campus- provide a deeper understanding of treasury and financial markets products.
This year, due to the Covid-19 situation, the course will be only offered as digital course.
Participants who successfully passed the program will be awarded by the Frankfurt School certification "CERTIFIED EXPERT IN TREASURY AND MARKETS".
Through a combination of e-learning, assessment and assignments the program gives participants a great flexibility in time and learning. Participants will receive a profound knowledge in the topics Fixed Income, Equities, Risk Management, Financial Analysis, Derivatives, Foreign Exchange, Commodities, Asset & Liability Management as well as Regulation & Compliance.
Registration:
We recommend that interested candidates register now as they can join already the first batch. Registrations are possible at any time through the following link: www.fs.de/cetm .
Participants can take the exam online at the end of the programme.
Program Fees:
Standard Fee: EUR 9.600
After an intense negotiation we managed to negotiate for our members an exclusive offer:
| CETM fees | Online Week |
| --- | --- |
| Online Module | 5,300 EUR |
| The week | 2,200 EUR |
| Total | 7,500 EUR |
| Discount Pride for AEFMA/ LFMA / TMA 20% Discount | 6,000 EUR |
As agreed during last AGM, LFMA supports this new program with a sum of 7.200 EUR in order to help the first 5 LFMA's members that will subscribe the CETM.
So, with 1,440 EUR discount the final cost for the CETM will be 4,560 EUR – as shown in the follow table:
| CETM fees | Online Week |
| --- | --- |
| Online Module | 5,300 EUR |
| The week | 2,200 EUR |
| Total | 7,500 EUR |
| Discount Pride for AEFMA/ LFMA / TMA 20% Discount | 6,000 EUR |
| LFMA's support | 4,560 EUR * |
*This price, again, is valid only for the first 5 subscribers and this discount applies for max. 2 candidates per financial institution.
For any further information please contact:
Ms. Silja Bellinger / Mr. Basel Chaban at Frankfurt School:
Tel. +49 69 154008634
Mr. Vincenzo Giunta at LFMA: Tel. + 352 691 544 991
Best regards,
The Board of LFMA